Car Rental Richmond – Why Winterized Cars Cost More
Posted On : 12 March, 2018 | Posted By : Rent A Car
When the temperatures drop below 7 degrees Celsius, car rental companies in Richmond start putting on their winter tires, readying themselves for an even bigger drop in the mercury. Though it's a vital part of staying safe while driving during the winter, car rental customers in Richmond might wonder why it's necessary to under take these kinds of cold weather precautions. In this post, we consider why renting a winterized pays off in dividends.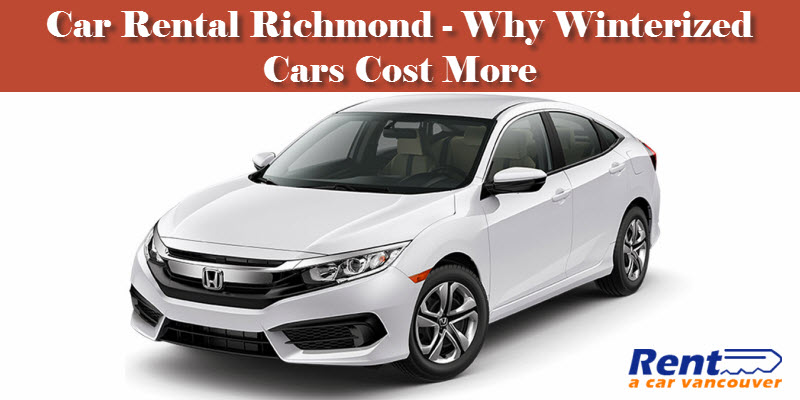 1. Winter Tires
Not mounting winter tires when driving north of Vancouver will get you into a lot of trouble with the law, as it is deemed unsafe to drive on icy roads without the proper equipment. So firstly, not having your rental car in Richmond winterized could result in a hefty fine. Winter tires are designed with deeper grooves, and an increased ability to grip the road in adverse conditions, such as ice, mud, and snow. More than that, the material they're made from is resistant to hardening in the cold, so they are a little bit pricier than normal tires.
2. Washer Fluid
A winterized car rental in Richmond has to be well prepared for sleet and snow while on the road. Having a full reservoir of washer fluid is a great way of melting chunks of snow and ice that hit the window screen. To be extra safe, you could consider keeping an extra bottle in the trunk – it might come in handy when you need a top up on the road.
3. Windshield Wipers
Washer fluid isn't the only thing clearing the windscreen for drivers – in fact, it's important for winterized vehicles to be prepared with windshield wipers that can effectively tackle falling snow. Winter wipers are heavier than year-round ones, armed with rubber that doesn't allow ice to freeze and stick to the blades.Though they are more expensive than conventional wipers, they have a much greater ability to swish away any debris that gets in the way of a driver's line of vision, keeping them safe even in unfriendly weather conditions.
4. Vehicle Upgrades
The final way your rental can be made safer for winter conditions, which might end up a bit more costly, but worth the extra expense, is that a larger truck with 4-wheel drive capability could be a better option if you're planning to take your car rental in Richmond out of the city. Highways affected by snow are much more safely navigated with 4-wheel drive, so make sure to take that into consideration when planning your next road trip outside Vancouver.